>> Tuesday, April 8, 2008
De News: 5Five, Antigua, Atlantik, Brian McKnight, Destra Garcia, England, Ghana, Kenny Rogers, Kes the Band, Kevin Lyttle, Keyshia Cole, Kubiyashi, Maxi Priest, Notting Hill Carnival, Shaggy, Zoelah
Good Evening Soca Lovers, I'm Nurse Karen and these are Dr. Jay's Rounds.

Antigua and Barbuda has a brand new International Music Festival coming June 12 -15. It's called Romantic Rhythms and it features the likes of Keyshia Cole, Brian McKnight and Kenny Rogers! Shaggy and Maxi Priest will be showing love reggae-style, and in the soca arena, Miss Destra Garcia and Atlantik will balance out the Caribbean vibes. Here's a shot of me with the guys from Atlantik. We were liming at Glow in St. Vincent. You'll notice they aren't wearing the right colour!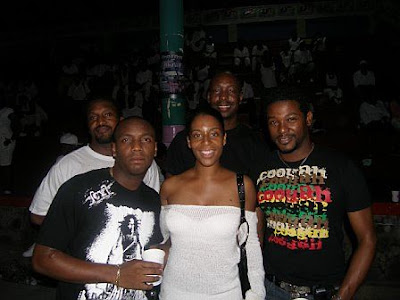 If you draw a straight line going east from the Caribbean, you'll eventually hit the gold coast of Africa. There you'll find a group called 5Five that's making a lot of buzz with their song African Gurlz. The local music in Ghana consists of two infectious styles called Highlife and Hiplife. They aren't all that different from popular Caribbean sounds, because those very African Rhythms are the foundation of OUR modern music. The 5Five hit is a foray into the genre of soca music, and this week the duo is ecstatic to be nominated for FIVE 2008 Ghana Music Awards. We wish them good luck, whether they win Discovery of the Year, Hiplife Artiste of the Year, Song of the Year, Pop Song of the Year, OR Hiplife Album of the Year – Any win is a big forward for Soca Music internationally. And I support dat!
I was fortunate to travel to Africa for the first time last Spring. I was in Ghana during the celebrations for the 50th anniversary of independence from British rule. Here's a picture of me at the Cape Coast slave castle. That was a very emotional day.
The Summer Olympics will be taking place in Beijing this year(if the boycotts are unsuccessful), and today the torch made its circuit through London England. The Royal city made sure the relay acknowledged every element that makes it a world class destination. One of those elements is the annual Notting Hill Carnival. When the torch made its way to Ladbroke Grove at 10 o'clock this morning, a mini-carnival was waiting there for it. That's the area where Europe's largest outdoor festival takes place every August. For FOUR hours, Londoners reveled in Caribbean food and music as they looked ahead to the Olympic games.
And this is me, playing mas at the REAL Notting Hill Carnival...
Happy belated birthday greetings go out to a couple of top Caribbean musicians! Kees's big brother Jon Dieffenthaller turned 29 on Monday. He's the guitarist from Kes the Band. Over in St. Vincent, Alex "Kubiyashi" Barnwell, was ringing in his Champagne birthday on the very same day. He burst on the scene in 2005, with the Lava Slide Riddim, A production that featured tracks by soca artistes from six different countries. But you probably know him best as the producer of Zoelah's smash hit Go Down Low.
Last Summer, Kubiyashi was hanging in Toronto for Caribana. Here we are at CIUT 89.5 FM. Kubi's being interviewed on the World Wide Wake Up Show by Jester and Chief.
Lastly, the entire Soca Therapy family wishes to express our deepest sympathy to Kevin Lyttle and his family in St. Vincent and the Grenadines and abroad on the passing of his mother earlier in the week. The mother and son shared a unique bond…and she will definitely be missed. Here's a shot I snapped of Kevin in happier days. He had just performed at Maddzart's Wild Out in Wred party in SVG in 2006.

I'm Nurse Karen and those were Dr. Jay's Rounds. Please send me your comments online at the Nurse Karen Etc blog at triple w dot mustardseeds dot net. And don't forget to download the podcast. Now back to de docta!